Late in my mother's life, I asked her to write down anything she remembered about our growing up years, a difficult time as Mum was a single parent, and Dad rarely sent the money required to take care of three little children. Fearing that Christmas had become a sad occasion for us, she made a concerted effort to "create" Christmas. Although she doesn't mention all the "memories" she established, here's a little piece she wrote about the Season. She's talking about the English cities of Winchester and Southampton in the early 1960s.

"When the children were very young, there were several things that were done, year after year, as "treats." The first one would be the making of the cake. I would get the old Hoovermatic washing machine out into the middle of the kitchen and sit the children round it on high stools. Then out came the ingredients and the various utensils, and we would start. All the weighing was done taking turns to get it exactly right then we would start to put everything into the mixing bowl. As the more edible items were reached they would all get a taste: a few currants, sultanas, raisins, and one (glace) cherry each. No one like candied peel. As the mixture was formed, everyone had to do some stirring until it was ready to go into the cake tin. Everyone put some in until only a little of the mix was left. Then there would be cries of "Leave some for us!" and finally as I put the cake into the oven, spoons would be given out and the bowl attacked until it didn't need washing, so thorough was the clearing.

The first of the outings was to see the lights and shops of Southampton. We would go down by train on a Sunday afternoon. No shops were open (on Sundays) in those days of course, so it was a cheap outing. We started at the Bargate where there was a big shop called Mays. We spent ages there looking in the windows. There was always a moving display involving Santa and polar bears, or the Sleeping Beauty. Then the toy display was examined, and then on to the next. There were enough department stores to make it quite an event. Behind Above Bar, there was a children's play park and we always went there for a swing and see-saw and slide. I remember how cold it often was, and how I wished the wind wasn't blowing up my skirt. We generally found a tea-shop and had a bun or scone and a drink, and then back to the (railway) station.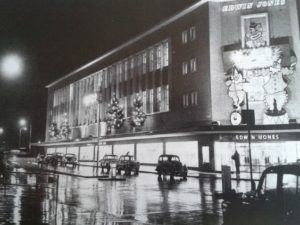 Edwin Jones, Southampton High St., one of Mum's chosen Christmas shops
The next outing was in our own city of Winchester when we did the same as in Southampton even including the swing and the slide. This didn't take quite so long because we had no train journey and Winchester is nothing like so big. Even so, everything was examined minutely and we particularly looked at the shop where we would be going to see Father Christmas.
This was the next thing.

It had to be on a week-day when the shops were open.

Nearly always, we went to Sheriff and Ward but there were other "grottoes."

Once, we went to Curry's and it was the worst.

Every child received a pair of plastic binoculars regardless of age and sex.

Father Christmas was not very polite to me, I must say.

Still, what could you expect for a shilling?

On very rare occasions, we actually went to Southampton on a weekday and visited one of their grottoes.

They were much superior to those on offer at Winchester.
That really took care of the outings.

The other events were indoors.

I think making cards and perhaps a present came next with about a ton of glitter and a vat of glue.

It is impossible to describe the mess.

Every family will know it.

Each worked according to their age.

Dominic was two years older than Bernie so was properly scornful of anything she had made or decorated.

Verity swam in a sea of paper and sticky scissors.

Things did get made and were as good as anything any other child did, I'm sure.
Then came the present wrapping done with great secrecy and cries of "You're looking!"

It's a wonder anyone received anything at all considering the loss of temper over this important area of preparation.

The trouble with the wrapping paper was its thinness.

The expensive paper was thicker but we were always watching the pennies so had to make do.

Soon little thumbs would poke through, the present itself would show only too clearly exactly what it was and the wrapping paper would end up on the floor, flung down by furious hands.

Selotape (Scotchtape) was a disaster; sticky paper, which had to be licked, was even worse.
This happened in the early days before school took over most of the "art work" but we went on with the outings for many years until Dominic was too old for such "baby stuff" and only the girls still enjoyed them.