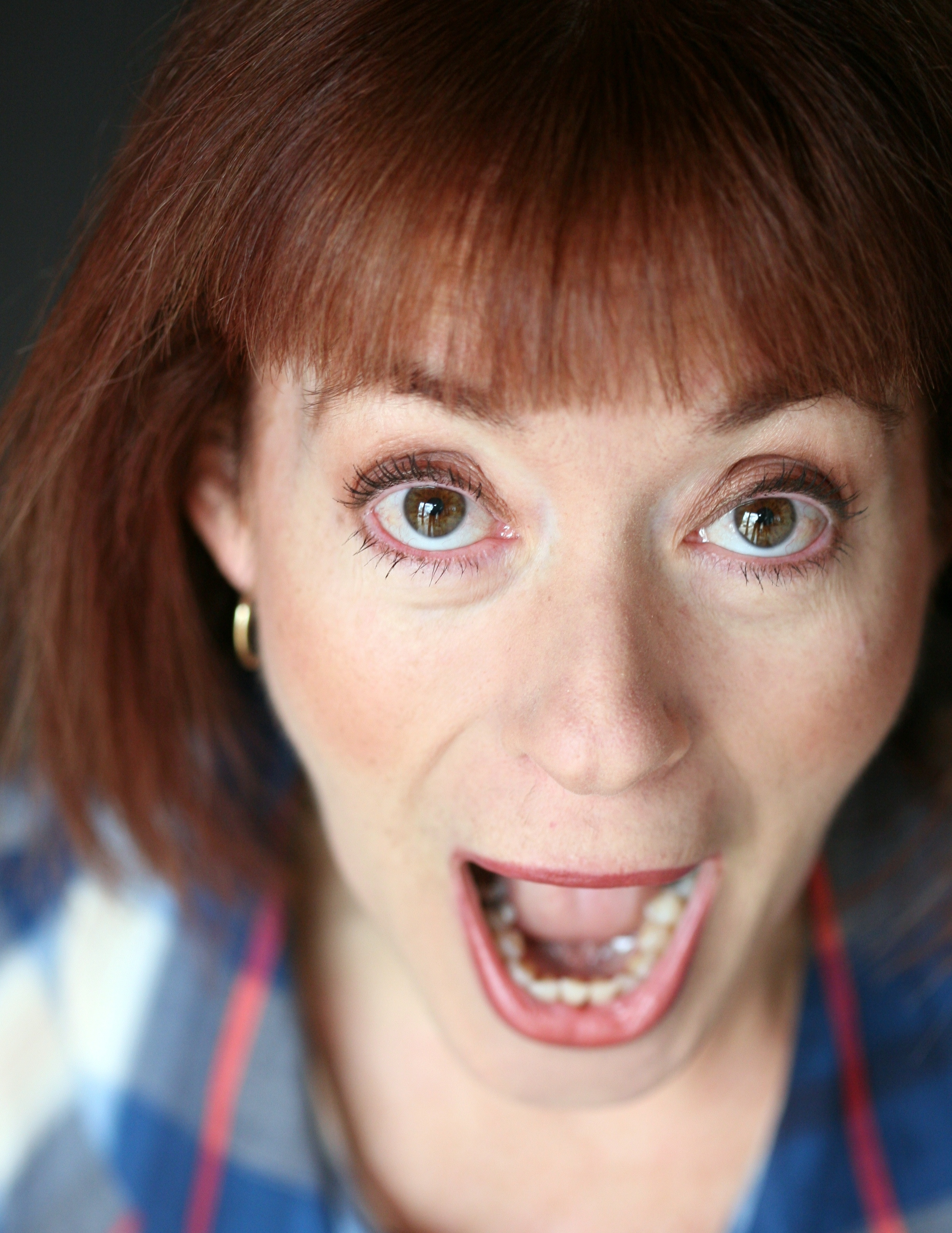 "If Monty Python went looking for a female cast member, Bernadette Nason would be an obvious choice. She's innovative, polished, and funny – a most proper 'pepper-pot' of a storyteller."
Barbara McBride Smith, Storyteller
Welcome to my Storyteller page! I've been a storyteller of one sort or another since I was a child—oral, written, on the page, on the stage—it's a part of who I am. I love to tell stories, and can spot a "story waiting to be told" anywhere. My biology teacher once wrote on a piece of my homework: Bernadette, you have a way of weaving a story, but this will rarely be required in biology exams. Your marks will improve when you squeeze in more facts. Please re-do this work without the prose and with ten provable facts. Scroll down for more about me and my much-improved homework!
Bernadette's Story
Bernadette is acclaimed both for her spirited re-telling of multicultural folktales and for her personal stories pulled from the contrasting lifestyles of the many places she's lived. She brings stories to life with a vast array of facial expressions, distinctive character voices, sparkling humor, and astonishing energy. With wild and witty observations, Bernadette draws from her unique experience to highlight universal truths and lessons—some momentous, some oddball to the max—learned along the way.
Bernadette grew up in England, lived and worked in Africa, then the Middle East, before arriving in the US, where she's been performing since 1993. She studied at Guildford Acting School (UK) and is regularly seen in regional theatre productions and movies, (Miss Congeniality, The Bystander Theory, Land of Leopold). For many years, her English-accented voice was heard on Austin's NPR station (KUT 90.5 FM) as a newsreader, storyteller, and occasional presenter. Bernadette tends to bring a theatrical flair to everything she does, both as an artist and in life!
As a touring artist on the Texas Commission on the Arts' roster, Bernadette tells stories annually to over 30,000 students, Pre-K—high school. She's well-known for her solo stage presentations, comprised of stories gathered under one theme.
Nason's work has been recognized numerous times as storyteller, actress and writer. She won the prestigious 2007 Austin Critics' Table Special Citation for "Conspicuous Versatility" and the dubious titles: "2017 Biggest Liar in Texas" and "2010 Biggest Liar in Houston."
Notable Events
NOTABLE STORYTELLING FESTIVALS/CONFERENCES/EVENTS
Texas Book Festival (2016, 2015, 2008, 2007, 2006)
San Antonio Symphony Young People's Concerts (2016)
Austin Symphony Halloween Concert (2016, 2015)
Cache Valley Storytelling Festival, UT (2016)
San Antonio Symphony Halloween Spooktacular (2014)
Tejas Storytelling Conference, San Antonio, TX (2014)
National Storytelling Conference Fringe, Richmond, VA (2013)
George West Storyfest, TX (2012)
Rocky Mountain Storytelling Festival, CO (2011)
SWAN Day, Washington DC (2011)
Tejas Storytelling Conference (2010)
Texoma Storytelling Festival (2010)
Austin Interfaith Arts & Music Festival (2010)
National Storytelling Festival Exchange Place, TN (2009)
Tejas Storytelling Festival (2009)
Timpanogos Midwinter Storytelling Conference, Provo, UT (2009)
Texas Folk-life Festival (2006-8)
Burnet Cultural Arts Festival, TX (2007)
AFFILIATIONS
Actors Equity Association
American Librarians Association
Austin Playhouse (acting company 2000 to date and board of directors 2006-2010, 2016-2020)
Central Texas Storytelling Guild (former vice-president)
National Storytelling Network
Screen Actors' Guild
Tejas Storytelling Association
Writers League of Texas
Solo Presentations
A Christmas Carol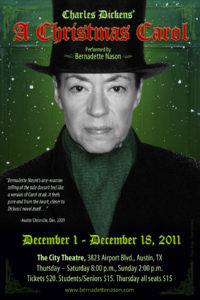 "Bernadette (Nason) delivers Dickens' quick-moving vivid text with crisp assurance and deft, economical mime. No exaggerations or mugging here; a shift of the shoulders, a roughening of the voice, a glint in the eye and she creates Ebenezer Scrooge in our minds, not in pantomime on the stage. Hers is the opposite of a bravado performance. She invites us into the fable, sketches the characters, and articulates the text with precision and relish… They're all here — skinflint Scrooge, meek Bob Cratchit, Scrooge's bounding nephew Fred, the two quite distinct old gentlemen soliciting charity, each of the Crachit children, three spirits of Christmas and a goodly crowd of others…"
Austin Live Theatre, December 2010
Nominated: ACoT Awards for Best Actress in a Comedy, Best Direction (Lara Toner)
Further Tales from Tripoli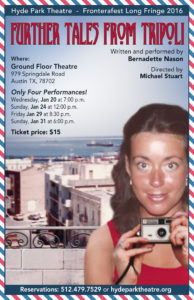 "A follow-up to Tea in Tripoli, a program of funny, touching, exciting stories about life in politically troubled Tripoli as a vulnerable Englishwoman with sunburn, a bucket of rice wine, and a psyche full of neuroses.
January 2016
Stealing Baby Jesus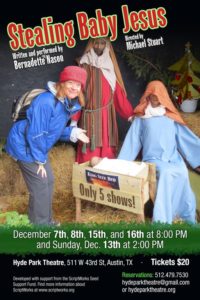 "I found a new tradition this very evening. I am committing myself to being one of the rapt listeners next year when Bernadette Nason spins her December tale, be it Scrooge and Marley or Christmas cake or crafting a tree out of cardboard, colored paper and tin foil… I shall be in the audience watching, experiencing and loving every moment of her precious gift… Nason is the consummate performer, holding the rapt attention of her audience with effortless ease. A one man, or woman show may seem easy; it is anything but. It takes an enormous amount of talent to make a theatre full of people hang on your every word. Nason does it all with charm, grace and endless wit… Give yourself the gift of an utterly charming, funny evening with an amazing woman. Go see STEALING BABY JESUS and you may just walk out of the theatre fundamentally changed. I know I did."
Broadway World, December 2015
Iced Tea in Texas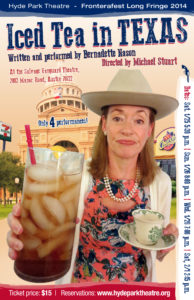 Totally at ease in front of her audience…Bernadette Nason brings her jovial, conversational style to Fronterafest (Long Fringe)… Shares the adventures that transformed a skeptical, globe-trotting manifestation of her into a naturalized Texan… Living proof that when the going gets weird, the weird turn to Austin, Nason was as much an oddity to the welcoming if perplexing Texans—as they were to her. She never imagined the land of HEB, where private citizens carried guns and concocted ghastly holiday dishes like green bean casserole, squash au gratin and candied yams, would be the stage for her coming of age story… Playfully irreverent…
TheatreJones, January 2015
Dinner in Dubai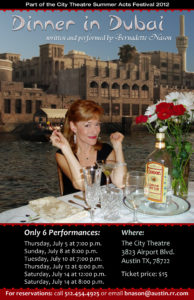 Bernadette Nason is one of those unexpected treasures who make Austin theatre such a pleasure to explore.
CTX Live Theatre, August 2012
Tea in Tripoli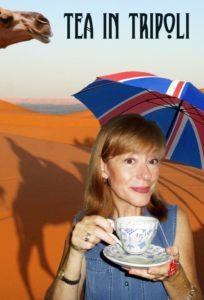 …a hilarious and harrowing tale of life in Libya by Austin all-star, Bernadette Nason… filled with shocking moments that will leave you breathless with anticipation, while also …rolling in the aisles with laughter… Watching Bernadette Nason perform this one-woman show is less like watching a show, and more like sitting down to tea with an intriguing, interesting friend. Her ability to tell a story is impeccable, the stories she tells so vivid that we forget we're simply watching a woman on stage, and allow our minds to take us to the sand-drenched deserts of Libya… at turns gripping, shocking, and laugh-out-loud funny, but one that never feels unbalanced…
Austin Theatre Examiner, October 2011
Nominated: ACoT Awards for Best Actress in a Comedy, Best Original Script, Best Comedy Production
Workshops
Writing a Memoir: Telling your own Tale
Everyone has a story; it's time to find and share yours! Rediscover, reclaim, and explore your memories. Analyze the reasons for writing a memoir. Discuss the importance of memory-keeping tools. Learn how to create a time-line to structure your work. Create prompts to shake up your memories. Come away with ideas on how and where to share your own story.
Specific Learning Objectives
Participants will leave the showcase being able to:
(1) understand the distinction between a memoir and an autobiography;
(2) analyze the many and various reasons for writing a memoir, and pinpoint their own;
(3) recognize major turning points in life, where memories are often significant and compelling;
(4) create a list of prompts to bring back fascinating and maybe even obscure memories;
(5) detect the universal truth in a story, making it more interesting to others;
(6) understand the importance of memory-keeping tools, such as journals, family records, photographs;
(7) identify some of the ethical issues that come up when writing a memoir.
Captivate the Crowd: Performance Techniques to Engage and Enthrall
You're on stage in the school cafeteria (festival, conference, community center, you name it). All eyes are on you. How can you keep them there? Examine traditional performance techniques and explore unconventional, innovative methods to captivate and hold your audience. Learn to be "in the moment" while applying these techniques. Overcome stage-fright. Come away able to analyze your own skills and develop your own presentation style.
Specific Learning Objectives
Participants will leave the showcase being able to:
(1) define "performing" as it relates to storytelling;
(2) identify tools used by storytellers both from traditional roots and from those experimenting with the art form;
(3) analyze their own performing styles and identify their own tools so they may make informed choices as they prepare their own stories;
(4) adapt and apply the methods modeled;
(5) demonstrate fresh, new performance ideas with confidence they present their own narratives.
Let's Start at the Very Beginning: Storytelling Basics
We all have to start somewhere. Discuss why we tell stories in the first place, from entertaining an audience to passing along family history. Chat about different types of story, from anecdote to folktale, and what sort of story you're most interested in. Explore how to choose the right story for you, and where to look. Ascertain your ideal audience. Learn basic performance techniques. Examine thoughts on memorization and overcoming stage fright. Come away with ideas of where to tell, what to request from your sponsor, and how to put together a presentation space for maximum effect.
Specific Learning Objectives
Participants will leave the showcase being able to:
(1) define the many beneficial purposes of storytelling;
(2) identify different types of story that may work for them;
(3) learn how to develop a story so as to tell it effectively;
(4) develop a unique presentation style and review personal tools;
(5) set up a performance area for best storytelling effect.