A short post because the photo says it all.  
Life in England was simpler back in the early 1960s.  Everything connected with Christmas is on top of, alongside, or in front of the radiogram.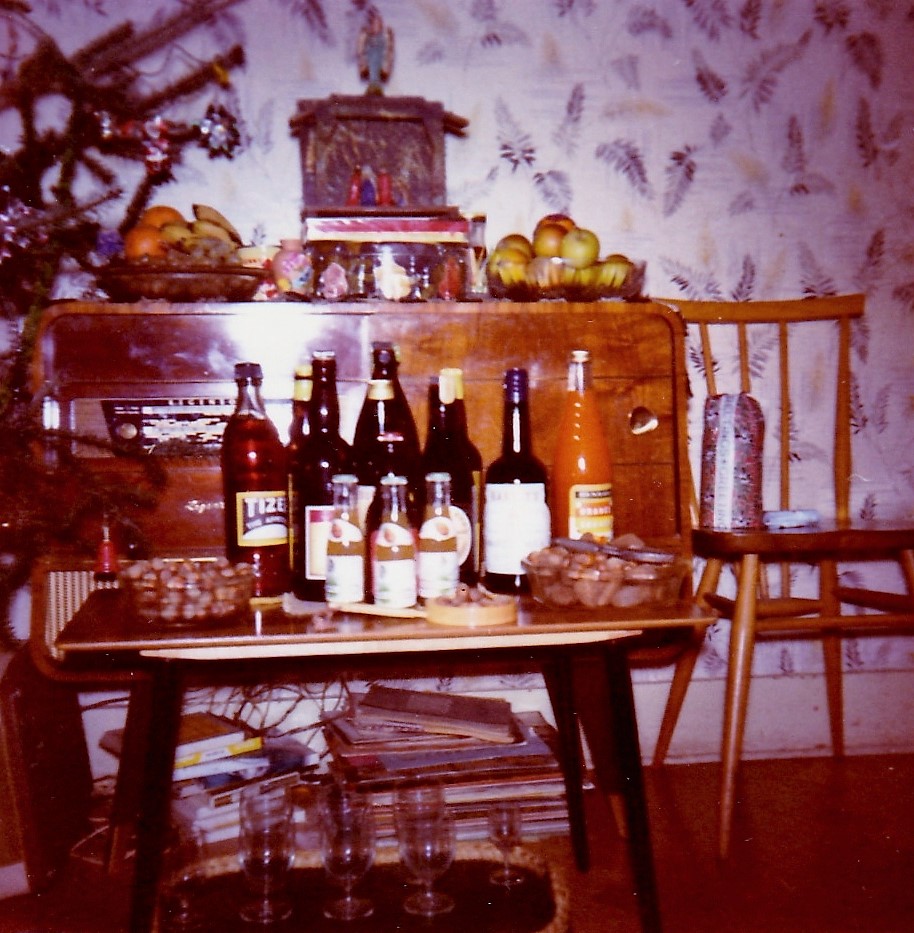 Christmas Tree (live) – check

Creche with the Angel Gabriel on top – check

Fruit (including extremely rare grapes, oranges and bananas) – check

Nuts with nutcracker – check

Selection of drinks including Tizer, cider, sherry and two bottles of beer + a tray of all-purpose glasses at the ready – check

Fern wallpaper – check
Where are the rest of baby Jesus' birth party? The kings are there, but where are the shepherds? Nor can I see the little wooden box of EatMe dates, dates being the one concession to the actual birth place of the baby Jesus. There should be a tin of Quality Street and/or Roses confectionery somewhere; I wonder if the biblical birth scene is on top of the chocs; there's definitely a box beneath the little stable.
I think those are tiny bottles of orange juice but if so, where's the gin? Orange juice is of no use without gin. This was before the days of wine-drinking, at least in our house. We always had Dubonnet and Schweppes bitter lemon to offer guests but it seems to be MIA — maybe Christmas Eve was a bit jollier after the children went to bed, or maybe Santa was less of a milk and cookies man than we thought! I believe that's a bottle of Scotch whisky lurking behind the cheap sherry — that would be for Dad. The unopened Bristol Cream Sherry would be for Mum. There's "Tizer" for my brother and sister and me. That would be our Christmas dinner treat (though one year, Dad let us have some real cider, to our mother's horror).
I suppose the presents are out of sight under the tree or haven't been displayed yet. Surely that one wrapped parcel on the chair can't be the only gift! 
It's quite possible that the Cratchits had more for their Christmas Day celebrations than this, but "Be it ever so humble," this little corner of our household brought more joy than you can possibly imagine.