"A gifted writer, a skilled actress and a superb storyteller, Bernadette Nason's beautifully crafted stories are works of art that touch your heart, and make you think, question, laugh and cry, all at the same time. A remarkable blend of honesty, grace and glee, she's a consummate professional."
Dr. Judy Matetzschk, Artistic Director, Pollyanna Theatre Company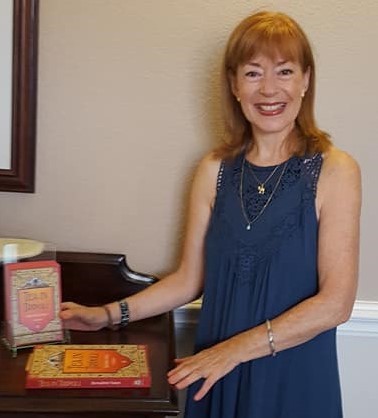 Bernadette Nason hails from England, lives in Austin, and performs all over the world. She's a multiple award-winning storyteller, actress, and now adds "published author" to the list. She's been on the Texas Commission on the Arts Texas Touring Roster since 2002, telling tales annually to over 30,000 students, Pre-K through high school. Bernadette is a company member of Austin Playhouse and ONSTAGE Theatre; resident artist with Pollyanna Theatre Co; and former associate artist with Austin Shakespeare Festival. She belongs to Actors' Equity and the Screen Actors' Guild, and is regularly seen in regional theatre productions, one-woman shows, and movies.
TEA IN TRIPOLI: A Memoir, Bernadette's first book, was launched on Amazon.com on August 21, 2017, and is also available at independent bookstores. If you purchase a copy from her Writer page, she will autograph it before sending it, and if you sign up on her Contacts page for up-to-date NEWS on publication events, she will not only autograph it for you personally at her next event, but also send you a copy of her free e-Book!
Blog
Bernadette's been scribbling her whole life, but the blog got started back in 2011, by popular request. Actually, no one asked. She's just got a lot to say. Of course, there's never enough time to say it all. "I'll blog at least once a week," she tells herself. She's working on that. Watch this space. In the meantime, click below to read earlier masterpieces about life in Austin, Texas, or her travels around the USA and other far-flung parts of our precious planet.
News
TEA IN TRIPOLI: A MEMOIR is now available from Amazon (www.amazon.com), BookPeople in Austin, The Twig in San Antonio, or on this website. Go to the Writing page for further details, or the Contacts page to send an email.
Come join Bernadette at the AUSTIN SYMPHONY'S CHILDREN'S DAY ART PARK which runs Wednesday mornings through end July 2019 (excluding July 4) For details, check out austinsymphony.org (http://www.austinsymphony.org/events/austin-symphony-childrens-day-art-park/).